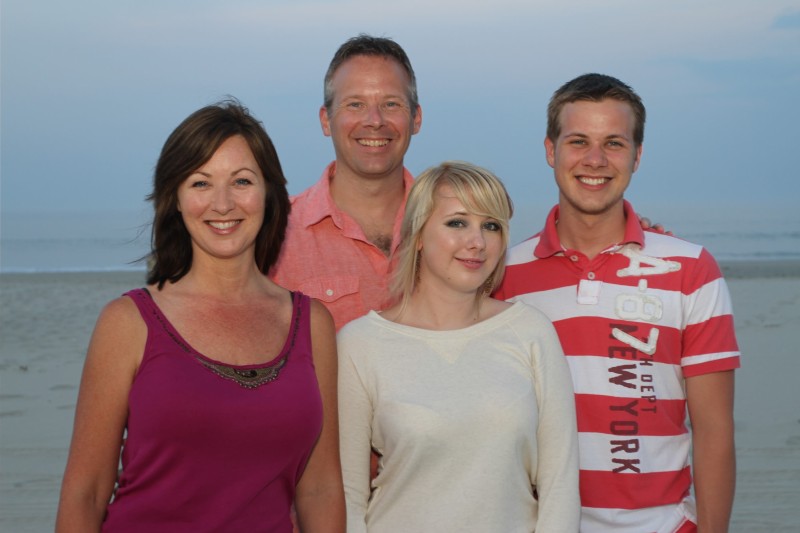 Dr. Pronek and family – Outer Banks, N.C.
Hello, my name is Dr. Thomas Pronek, my mission is to help people achieve their health goals through natural means. I completed my undergraduate education at Alvernia College and my doctorate was achieved at Sherman College of Straight Chiropractic in Spartanburg, S.C.
I practiced in N. Ireland for over 10 years and in 2008 I returned to the U.S. with my family to live and practice in Selinsgrove. I am one of the few chiropractors in the state to offer Advanced Biostructural Correction to their patients as well as being certified in BioCranial and NeuroLink techniques. I also offer Quantum Neurology which utilizes cold laser therapy.
Techniques
Advanced Biostructural Correction: This technique is the cornerstone of my practice. Treatment is based on correcting the bio-mechanics of the spine in an exact way so the body functions in an efficient manner. This often results in an increase in energy, improved breathing and elimination of pain and physiological malfunction. This technique will fix most physical problems not related to cancer, fractures, infectious processes and the like.
Quantum Neurology: This technique deals with the detection and correction of the neurological breakdowns within the body that cause ill health and pain. These breakdowns are corrected using cold laser therapy.
Neurolink: The NeuroLink system is extremely gentle and extraordinarily effective in helping people with hormonal issues, infections, digestive problems, and a wide variety of other health issues. The NeuroLink protocol is also a powerful way to help increase energy levels as well as releasing tension and stress stored in the nervous system.
BioCranial System: BCS helps the body to heal itself by removing interference at the highest level of the nervous system, the brain. This technique is a powerful tool in the correction of the physiological weakness that cause ill health and discomfort.

In May 2011, I started working with Dr. Pronek after being hit by car during a bicycle race. As a competitive athlete, minimal rehabilitation time, from such an accident, is what I was hoping to get. Within a few appointments with, I was feeling close to 100% if not better than prior to the accident. With each appointment, I noticed a drastic difference in my

efficiency of movement. I was feeling more aligned while running, biking and swimming. I now treat my appointments with Dr. Pronek as a vital part of my training regimen. I can honestly say that my appointments with Dr. Pronek are a major reason my return to the sport of triathlon has gone so smoothly.
Marty Owens – Competitive Triathlete/Runner/Cyclist
Head Track & Field/Cross-Country Coach
Susquehanna University

Just before the holidays in December 2011, I suffered from a pinched sciatic nerve, mostly likely caused from an exercise injury. While it got better with rest the pain would not completely subside, so I scheduled a visit to Dr. Pronek's office following a co-worker's recommendation. Dr. Pronek listened to everything I had say, was interested in my goals in terms of physical activity and was confident he could not only fix the pain, but also help with long-term preventative treatments. He did all that and more! The sciatic pain was completely erased after several appointments and I have

never felt more balanced. Friends and family asked if I had grown—I'm 28, so of course I haven't, but Dr. Pronek's care has made a drastic difference in how I hold myself, not to mention the (wonderful) lack of pain! I continue to see Dr. Pronek on a regular basis and am now surpassing my level of physical activity prior to the sciatic nerve pain!
Katie Meier